Do You Make Money Blogging?
I sure do!  I cannot say that it's 100% reliable yet, however I have been making a pretty good amount lately.  The jobs for sponsored posts and blog reviews are coming in like crazy! This is GREAT! Christmas is right around the corner and well we only make around 25k annually which isn't a lot for a household of 3.  We do not get any help anywhere either, but we manage.  Then I suddenly get these jobs which come in at perfect times!  Some are lower paying jobs and some are around $200 to $400!  It's pretty AMAZING!
I have been running & designing websites since around 1999 and hosting them since 2002, I started with my own reseller hosting to just host mine and possibly get a few clients.  I taught myself how to do HTML, what it meant and then I had to figure how the heck to use it? Like where do I put this HTML file I just made? I learned I had to have an HTML Editor, I did everything in notepad like a Pro! LOL
As I became more WWW Savvy I started to make a lot of money back in  2003, seriously I probably made 20k I was earning over 3k a month selling pre-built websites and selling them on ebay and smaller sites like PTBid.com.  I would sell tons of them, I was also a reseller for some specific website scripts, I'd buy the script attach it to a hosted domain, design it and list it for like $500! It'd sell fast! It was amazing!
All good things must come to an end though! That type of site was going down fast!
I started my own websites where I posted personal posts, webcam that was running in my house during our everyday life.  I didn't make any money from that stuff though, so I moved on. I made money from sites like AllAdvantage.com which is no longer the same site these days.  They were a get paid to surf the internet! LOL Yep! I have done it all!
These days I have since moved on from writing all of my own HTML code and updates to my sites I started using WordPress and  Studiopress (Genesis Framework).  I love it, they both make my life so much easier!  I know you're wondering how I am making money, right?
Well I write blog posts mostly! I use awesome sites like Linqia, LinkVehicle, Sverve and Glitter Network.  See the screenshot of my payments I have received since 8/1/15 till today.  I will do another post in a month to show you my earnings again! This is pretty awesome! I'm always happy when I can earn and help contribute some to our household and buy a new script for another kind of website. I love making sites! 🙂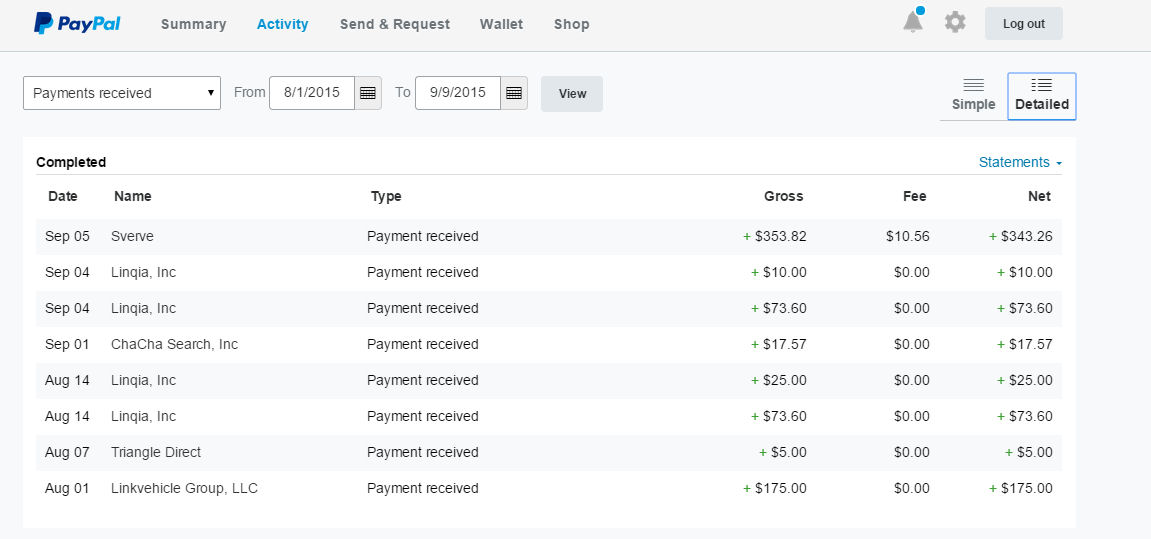 If you find yourself in a position that you want to start a blog and don't know where to start, send me a message! I can get you all set up for a fair price! Plus I'm here to help if you need anything!